Niemuth wins UCM's Foster/Inglish Prize in Public Relations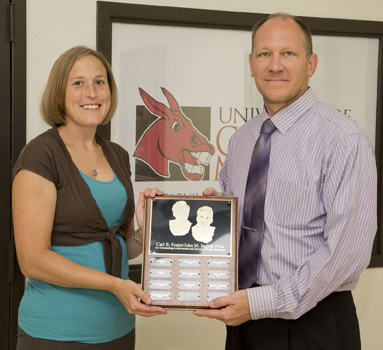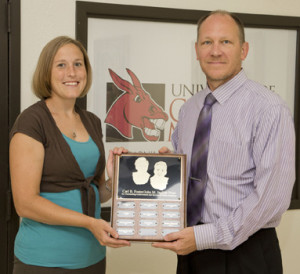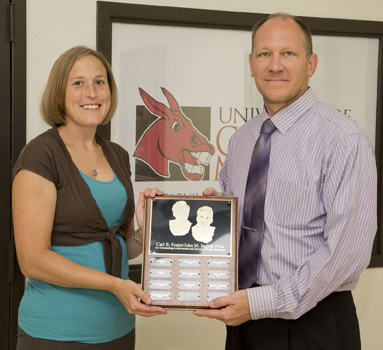 (WARRENSBURG, Mo.) – Courtney Niemuth, manager of new media communications in the Office of University Relations at the University of Central Missouri, recently was named the recipient of the 2013 Carl B. Foster/John M. Inglish Prize in Public Relations.
The award was established in 2000 through an endowment to the UCM Foundation to honor achievement and service by members of the university's public relations staff. Niemuth is the 11th person to be honored with the award.
John Inglish, UCM director emeritus of public relations, created the endowment in honor of his longtime friend and mentor, Carl Foster, who retired as director emeritus of public relations at UCM in 1986 after 19 years of service. Inglish succeeded Foster in the post, retiring after 27 years of service to UCM's public relations office. The award includes the addition of the recipient's name on a plaque honoring the previous recipients and a monetary prize made possible by the endowment.
"Courtney is a strong believer in the direction this university is heading, and this shows in her daily work," said Robin Krause, director of marketing and promotions in University Relations. "Her approach to marketing has paid big dividends in helping our office be more deliberate in all areas of communications. She begins every project with the question, 'What are we trying to accomplish?' and then looks for the best solutions. She has helped take our social media sites to new levels of popularity and interactivity, and she's an expert when it comes to using data to help determine a course of action."
Niemuth joined the UCM professional staff in January 2010 as the marketing specialist in the Elliott Union. She joined the Office of University Relations staff in December 2011. Prior to coming to UCM, Niemuth was program coordinator for Tempel Lipizzans in Old Mill Creek, Ill., where she worked in marketing and media relations. As program coordinator, she coordinated the appearance by the Tempel Lipizzans in the 2009 presidential inaugural parade. She also has worked as a freelance newspaper and magazine journalist.
"It's been an exciting year to be a part of UCM, and we have had some unbelievable opportunities," Niemuth said. "I am lucky to work with an outstanding group of people in University Relations, doing a job I really enjoy. To be recognized for that work is truly an honor."
A native of Illinois, Niemuth received a Bachelor of Journalism degree from the University of Missouri School of Journalism in 2003 and a Master of Arts degree in Mass Communication from UCM in 2013. She and her husband, Brian, reside in rural Leeton.